Purfleet gunpowder magazine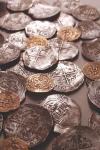 The Royal Gunpowder Magazine at Purfleet was established by Act of Parliament in 1760, and much of the facility was built between 1763 and 1765. The magazine buildings were specially constructed to guard against sparks, facilitate ventilation, and limit the damage done in the event of an explosion. Safety practices were also employed. The civilian 'powder men' wore only the clothes and shoes provided; barrels were never rolled, but wheeled. As no artificial light was permitted inside the magazine buildings, polished copper plates were used to reflect sunshine from the open doors into dark corners when necessary. A garrison of artillery also protected the site. Purfleet stored as much as 52,000 barrels or 2,300 tons of gunpowder, and was the receiving house for all gunpowder manufactured or purchased by the government. This meant that shipments were coming into and out of Purfleet on a daily basis, and an accidental, but devastating explosion was a constant danger.
More from the world of The Counterfeit Guest...