Mr Somerville's dinner party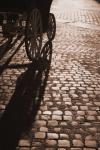 In the course of the dinner party at Woolthorpe Manor, Mr Somerville mentions the earlier visit of a French aristocrat to the area and his interest in Suffolk horses.
This was François de la Rochefoucauld, the son of the Duc de Liancourt, who undertook an English tour in 1784 with his younger brother and tutor. After spending a week in London they altered their itinerary in favour of East Anglia – possibly because of a favourable account of the weather, and possibly in order to be near the celebrated writer and economist, Arthur Young. They settled in Bury St Edmunds but also travelled more widely in Suffolk and Norfolk, and François wrote a lively, informative account of his experiences and of the region.
Happily, Mr Somerville's fears for his safety were misplaced. Rochefoucauld survived the French Revolution and the wars that followed, and died in Paris in 1848.
More from the world of The Blackstone Key...