Lord Edward FitzGerald and Theobald Wolfe Tone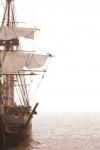 Although they do not feature directly in The Mistaken Wife, Irish revolutionaries Lord Edward FitzGerald (1763-1798) and Theobald Wolfe Tone (1763-1798) might be said to make a ghostly appearances, via the career of Captain Flynn. Flynn hints that he is in France to pursue matters hostile to Britain, and Wolfe Tone likewise went to France in 1796 to promote a French landing in Ireland. Also like Flynn, Tone obtained a commission in the French army, although this did not prevent his conviction for treason when the British captured him in 1798. Before coming to France, Flynn has served a period of exile in America, as Tone had done, and their observations about Philadelphia are similar. Flynn's earlier military experiences, however, echo those of Lord Edward FitzGerald. Both men served in the southern theatre of the American War of Independence and saw action in the Carolinas as aides to Lord Rawdon.
More from the world of The Mistaken Wife...