The American Envoys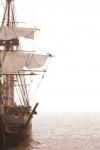 The appointment of John Marshall (1755-1835) to the three-man commission in 1797 demonstrates the strength of President Adams' Federalist cabinet – Adams had hoped to include at least one member from the Republican party. Marshall was particularly dismayed by the treatment the envoys received in Paris, and he returned to the United States in the spring of 1798. The following year he was elected to the United States House of Representatives but served only fifteen months before being appointed Secretary of State. In March 1801 he became chief justice of the United States Supreme Court, a post he held for thirty-four years. During his tenure, decisions of the Court reinforced the national supremacy of the federal government vis-à-vis the states and also increased the Court's power as a branch of federal government. In particular, the decision in Marbury v. Madison established the Court's power to declare invalid any act of Congress that conflicted with the U.S. Constitution.
Charles Cotesworth Pinckney (1746-1825) spent his youth in England and studied at Westminster School and Christ Church, Oxford. He was called to the bar in 1769, and then continued his education in France, including a period at the Royal Military College at Caen. During the American Revolution he held a commission in the Continental Army, and endured a period of close confinement as a prisoner of war. He played a significant role in the constitutional convention of 1787, and President Washington offered him various appointments – each of which he declined. In 1796, however, he was appointed Minister to France. A known Federalist, the French government declined to receive him because of his perceived pro-British sympathies. After the failure of the Franco-American negotiations, Pinckney returned to the United States, where he was twice an unsuccessful candidate for the vice-presidency.
The third member of the American delegation does not appear in The Mistaken Wife. He was Elbridge Gerry (1744-1814). While in Paris, he urged patience and compromise in an attempt to avert war. His decision to remain in France after his colleagues had departed led to accusations of disloyalty by Federalist critics. He did return in October 1798. Gerry served two terms as governor of Massachusetts, but was defeated in 1812 over his support for a redistricting bill that created the term 'gerrymander'. He was elected vice-president under James Madison, and died in office.
More from the world of The Mistaken Wife...