Horse-racing at Newmarket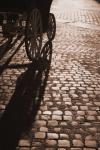 Horse-racing was extremely popular in the eighteenth century, and Newmarket was already famous as a centre of the sport.
In addition to its regularly scheduled race meetings, the Newmarket course hosted less conventional spectacles, among which the race that disrupts Mary Finch's journey at the start of The Blackstone Key would not have stood out. Spectators came to see timed races, as when a horse attempted to run 23 miles in an hour, or a man attempted to ride 50 miles in two successive hours (both were successful), or dramatic, head-to-head contests.
In 1773 the race between Mr Blake's Firetail and Mr Foley's Pumpkin produced a spectacular result, with both horses completing the Rowley mile (actually a mile and 17 yards), in the remarkable time of one minute and four seconds.
More from the world of The Blackstone Key...