Coaching inns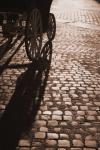 Coaches were an important means of travel in the eighteenth century, and inns were built or expanded to accommodate the growing trade.
Even wealthy people who travelled in their own vehicles hired horses from 'posting houses'. These were establishments located at regular intervals on the main roads, where public stagecoaches and mail coaches stopped to pick up and discharge passengers and to obtain fresh horses. A busy inn might provide stabling for 50-60 post horses and an equal number of coach horses. Many also kept pairs of horses and chaises for local hire.
Mary Finch's journey to Woodbridge and Captain Holland's journey to London and Waltham Abbey in The Blackstone Key occur along well-established routes and feature popular inns of the time. Several are still in existence, including the Eagle in Cambridge, the Angel in Bury St Edmunds, and the Crown in Woodbridge. The Great White Horse Hotel in Ipswich entertained Lord Nelson and is mentioned in Dickens' Pickwick Papers.
Although delays and accidents were not infrequent – the result of bad weather, bad roads, reckless driving or some combination thereof – coaches aimed to provide a fast, efficient service. A stagecoach might average six and a half miles per hour, and a mail coach a speedy eight. Some vehicles travelled overnight, like the mail from Ipswich, which set off at 9:30 pm and arrived in London at 7:00 am, and brief stops for food might or might not be built into the timetable. One service between Bury and London boasted that it departed the capital at 5:00 am and reached its destination at 3:00 pm, thus avoiding 'the very tedious and disagreeable delay of dining upon the road.'
Experienced travellers like Mrs Oldworthy, who were also good cooks, did not have to choose between speed and sustenance.
More from the world of The Blackstone Key...